HEART OF A CHAMPION FOUNDER TESTIFIES BEFORE CONGRESS
BEFORE A JOINT MEETING OF THE HOUSE EDUCATION AND LABOR SUBCOMMITTEES ON EARLY CHILDHOOD, ELEMENTARY AND SECONDARY EDUCATION AND HEALTHY FAMILIES AND COMMUNITES
July 8, 2009
View the testimony. (Click here)
Read the transcript. (Click here) PDF
View CNN coverage. (Click here)
Congratulations to Torii Hunter on being named to the 2010
American League All-Star team!

Congratulations to HOC Board Member Clark Kellogg for being selected as Vice President for Player Relations by the Indiana Pacers!
Angels and Heart of a Champion Foundation team up to change futures of 3,000 Orange County youth
September 8, 2010
ANAHEIM -- The Angels Baseball Foundation, along with the Heart of a Champion Foundation, have teamed up to change the lives and futures of children in Orange County. Implemented at five Orange County schools, the Heart of a Champion curriculum reached over 3,000 students in the 2009-10 school year.
The Heart of a Champion Foundation, a program supported by the Torii Hunter Projec t,is a non-profit organization that offers educators an innovative and effective approach to developing character in the lives of their students. The mission of the foundation is to address the current crisis of character in our nation by reaching the hearts of students with engaging stories of individuals from the world of sports, history, the arts and other areas of life through group mentoring.

Pro golfer funds program to help at-risk teens
April 21, 2010
FORT WORTH -- First-time juvenile offenders in Tarrant County will get a chance to turn their lives around through a new program unveiled Monday with the help of a professional golfer.

U-Turn, funded by PGA Tour golfer Chad Campbell and his wife, Amy, is an eight-week mentoring program that builds character, exposes youth to professional careers and helps them make life choice

Life Skills Joins with Heart of a Champion
Janurary 2010
Heart of a Champion is now part of an ongoing program at the East Arkansas Regional Unit. They have initiated the program with 200 inmates.
JUSTIN UPTON AND ARIZONA DIAMONDBACK TEAM UP
WITH HEART OF A CHAMPION
November, 2009
Heart of a Champion is proud to welcome Justin Upton and the Arizona Diamondbacks to the Heart of a Champion team. Justin and his Diamondbacks have committed to sponsoring the Heart of a Champion program for two schools in the greater Phoenix area. Thanks to their generous support, Heart of a Champion is able to impact nearly 1,000 Arizona students. On behalf of the students at Sacaton Middle School and Teleos Academy, thank you Justin Upton and the Arizona Diamondbacks!.
TORII HUNTER PRESENTED A GIFT FROM HEART OF A CHAMPION BY
STEVE RIACH FOR HIS PART IN MAKING AN IMPACT.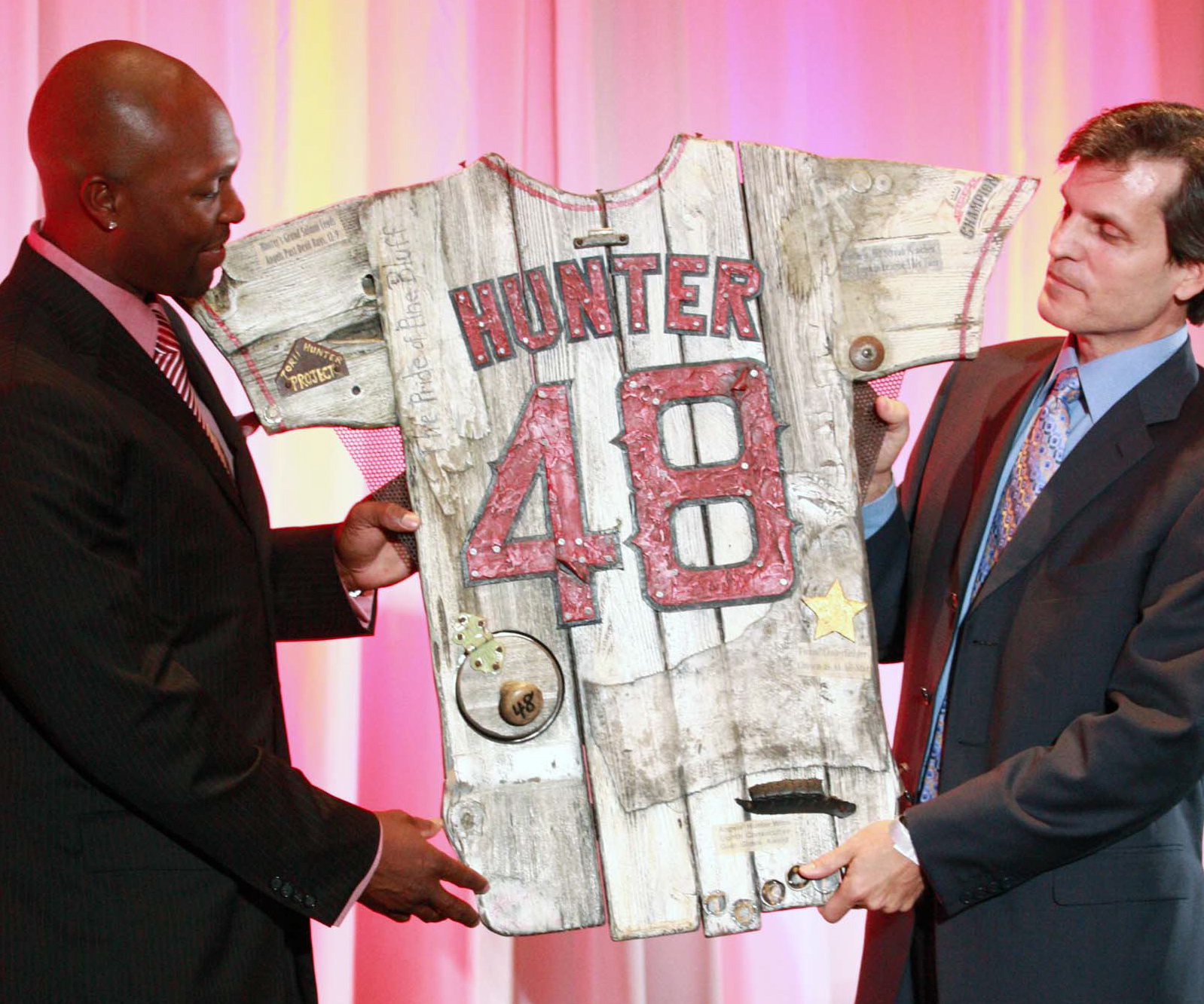 November 2009
LESSONS FOR OUR CHILDREN
POINT OF VIEW YOUTH AND ETHIC
by BY FRANK KEATING
Published: February 6, 2009
Thirty percent of U.S. high school students admitted to have stolen from a store and 64 percent admitted to have cheated on a test, news reports say. (read more)
Press Releases
LAS VEGAS - The Torii Hunter Project Education Initiative, believed to be the first such comprehensive educational effort initiated by a professional athlete, officially kicked off with an announcement at the Bellagio Hotel. The initiative, which will be operated by the Heart of a Champion Foundation, focuses on two aspects: the Heart of a Champion character education curriculum, which will be delivered to middle school and junior high school students in Anaheim, CA, Pine Bluff, AR, and Minneapolis, MN; and the Hunter's Hundred scholarship program, which will provide college scholarships to 100 students from Anaheim, Pine Bluff and Las Vegas, NV over the next four years. ToriiHunterProject.com
Click here to view Torii Hunter interview.
_______________________________
HOUSTON – The Houston Texans will host a "Heart of a Champion Kick-Off" event to highlight their ongoing partnership with the Robert and Janice McNair Foundation and the Heart of a Champion® Foundation in providing a top character development program to over 7,000 middle school students in the Houston and Katy Independent School Districts.
The Kick-Off event will take place October 2, at 9:00 AM at Cullen Middle School. The event (read more)
Recent Articles
Most cyber-bullied boy on the planet (OC Register)
by Lori Basheda
The boy who started the No Cussing Club (considered the most cyber-bullied boy on the planet) may be coming to a classroom near you.

McKay Hatch is now part of a nationwide character development program that some Orange County Schools are incorporating into their curriculum, courtesy of Angels outfielder Torii Hunter.

As of this week, Heart of a Champion is in South Junior High in Anaheim, McPherson magnet school in Orange, El Modena High in Orange and the entire Savanna School District in Anaheim. Next month Hunter and the Angels Foundation will officially kick off a partnership with the program. Torii is also hosting a celebrity golf classic on Nov. 10 and 11 to raise funds for it.(read more)
Hunter wins Branch Rickey Award - Angels outfielder honored for national work with kids (MLB.com)
DENVER -- Angels outfielder Torii Hunter is active in many different projects off the field, covering athletics, education and public health. Hunter was recognized for it Thursday, when the Rotary Club of Denver announced that he will receive the 2009 Branch Rickey Award.
The award has been given annually since 1991 to a baseball figure for humanitarian and community contributions. Hunter will be honored at a banquet in Denver on Nov. 14.
Awards are not new for Hunter, who was chosen the 2007 Marvin Miller Man of the Year, which goes annually to a player whose on-field and off-field acts inspire others.
In December, during baseball's Winter Meetings in Las Vegas, Hunter announced a partnership with the Heart of a Champion Foundation to create the Torii Hunter Project Educational Initiative to provide college scholarships and character development for students in Anaheim, Calif., Pine Bluff, Ark., Las Vegas and Minneapolis.(read more)
Also read what the OC Metro says about Torii Hunter winning the Branch Rickey Award.
Torii Hunter Project to fund scholarships (LA TIMES)
Angels center fielder Torii Hunter will be joined by tennis great Andre Agassi at the winter meetings today to announce an education initiative that will provide scholarships and character development curriculum to students in four cities: Anaheim, Pine Bluff, Ark., where he grew up; Las Vegas and Minneapolis, where Hunter played nine years with the Twins.(read more)
'Hunter Project' expands to educate (MLB.com)
The Torii Hunter Project has long been associated with helping to promote the game of baseball to inner-city youth. But now, Hunter is using his foundation to support another issue close to his heart -- education. (read more)
Hunter giving the gift of education (ESPN)
Torii Hunter has never forgotten about drive-by shootings in the seventh grade, or the gang life, or when his father stole his signing bonus because of his sick need to buy crack.(read more)
OKC-based Express Personnel Services expands Heart of a Champion
Last year, Express Personnel Services, along with the Oklahoma City Blazers and RedHawks, sponsored the Heart of a Champion program for area middle school students.
The program created by the Heart of a Champion Foundation, a nonprofit agency based in Dallas, provides character education materials to elementary, middle school and high school students in 11 states.
About 8,000 middle school students in the Oklahoma City area participated in the character development program during the first year. (read full article)
The Chiefs and QB Damon Huard Show "Heart" at Local School
There are many characteristics utilized by an individual who toiled in near obscurity before finally becoming more than an afterthought as an NFL quarterback. Without a doubt, heart would be one of the most important. Thanks to that attitude, Kansas City Chiefs QB Damon is well aware (read full article)
Park View Intermediate, Houston Texans to provide character education program
Park View Intermediate School is partnering with the Houston Texans Foundation to provide the "Heart of a Champion" Character Development Program to students.
The "Heart of a Champion" program provides classroom resources such as real-life video and printed stories to present the subject matter to the students in sixth grade and up. Class and individual exercises help students to apply nine traits (read full article)
Recent Media Coverage FOX 25
Making an impact in Oklahoma City
Recent Media Coverage NEWS 9
Making an impact in Oklahoma City
Torii Hunter Interview (top)
December 9, 2008

Upcoming conferences we'll attend (more coming soon)

Upcoming Training (stay tuned)