Heart of a Champion is grateful for the participation of our partners that make this program possible.
<

Express Employment Professionals
Partnerships
In order to spread this important message of character, Heart of a Champion has initiated numerous public/private partnerships to help underwrite a portion of the program at specific school outlets or throughout metro areas. The Kansas City Chiefs, Houston Texans, Express Personnel Services and others are sponsors who put the program in the hands of schools and students. These sponsors have been instrumental in developing character in the lives of students, but have also benefited from brand extension and advertising to an important and influential demographic.

1) Brand Extension

With a sponsorship of the Heart of a Champion program, partners will receive logo and name branding on the program materials. The materials will be seen by students on a daily basis throughout the entire school year and will provide for a significant brand marketing opportunity.

A typical week provides for an average of 12 impressions per student. At some outlets the impressions surpass this number. Using this average, the cost per impression for underwriting the entire program at $8 per student is as follows:

- 4,320,000 total impressions
- $85,000 sponsorship
- Cost per impression = less than $ .02

2) Image Building

Heart of a Champion wishes to build on the reputation for community service that our partners have already established by working to draw attention to this partnership in a variety of endeavors including Kick-Off events and community outreach opportunities.

Heart of a Champion will work with each sponsor to coordinate other promotional opportunities throughout the school year. For example, sponsored year end parties, sponsored Heart of a Champion t-shirts, or assemblies throughout the year can add additional value to the sponsor's presence in a school.

3) Consumer Base Expansion

Heart of a Champion will also work with sponsors to coordinate promotions for participating students that will drive consumer traffic to strategically selected products and retailers. This initiative would allow sponsors to grow their consumer base in a demographic that spends or influences the spending of $250 billion dollars on food, clothing, entertainment and products each year. Through coupon distribution and through building affinity relationships with these youth, their parents, and those in the community who are attracted to the positive image the character program provides, sponsors will be able attract new customers and increase the loyalty of current consumers.

Random Acts of Character (RAC) Rewards
To positively reinforce student behavior, HOC uses "RAC Rewards" coupons that are distributed to students by teachers over the course of the school year. Coupon value is determined by the sponsor, and can vary by month.

Heart of a Champion Student ID Cards
Every student participating in a sponsored school will receive credit card sized identification card that includes the sponsor logo. The card can be used for periodic promotions at the discretion of the sponsor.

If you're interested in partnering with the Heart of a Champion Foundation in your area, please contact us at info@heartofachampion.org Sponsorships are tax-deductible as the funds are payable directly to the Heart of a Champion Foundation, a 501(c) 3.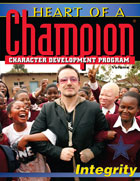 Cover Sample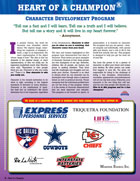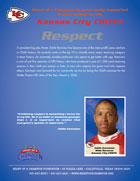 "The Heart of a Champion material is perhaps the most substantive program in character education and we are proud to serve the Houston community in this manner."
- Robert McNair, Chairman of the Houston Texans
"Our support of Heart of a Champion reflects our desire to serve the local community. The program materials speak for themselves."
- Scott Josey, President of Mariner Energy